Riddles Fishing Lodge is a family-owned and operated lodge, with three generations operating it for over 35 years. The Lodge and Guide Service was originally started by Steve Riddle back in the early 1980s as a guiding business only. Steve eventually purchased the property and opened the current business offering guests a place to stay and fish from. The location he chose couldn't have been better with the proximity to fishing and wildlife viewing.
The Comforts of Home
At the end of a long day of fishing or sightseeing, you'll enjoy relaxing in our well-appointed and spacious Cabins. Each modern cabin or lodge unit sleeps 4 to 6 with all the comforts of home (kitchen, bath, and TV). All units are located on the world-famous Kenai River on our property. Two standalone cabin units and two lodge units are attached to our home and available to guests. The second lodge unit is currently being remodeled and will be posted here when photos are available! That unit will be called the Eagle's Nest and will feature new in 2023 two guest rooms, a bathroom, a small living area and a fully equipped kitchen overlooking the riverside deck and the Kenai River!
Our Lodge is located directly on the banks of the Kenai River. We take pride in providing clean and comfortable Lodging, you will be surrounded by some of the most scenic wilderness Alaska has to offer while enjoying the convenience of modern amenities. All of our accommodations are private for each group, all accommodations have private baths and fully equipped Kitchens with everything you will need for preparing your meals, along with complimentary coffee and creamer.
All of our cabins come complete with fully equipped kitchens for preparing your meals. For those nights that you would not like to eat in we are a short 10 minute drive to the town of Kenai which has a large variety of restaurants to choose from or call ahead and most will deliver right to your cabin.
You will also have full use of our riverside, covered bar-b-cue area for nights when you want to cook up your day's catch while enjoying the abundance of Wildlife Viewing.
All units are non-smoking but have outside decks with sitting areas for those who do smoke. Included in your package is daily maid service and all linens.
Angler's Retreat
This two-story stand-alone cabin has six single beds (one bedroom and loft area) and two full bathrooms. There are three single beds in the upstairs bedroom and three single-beds in the upstairs loft area.
Fisherman's Quarters
This stand-alone cabin has four single beds (one bedroom) and one bathroom. Where the single bed is in the photo in the living area there will be two twin single beds in 2023! So there are two single beds in the bedroom and two in the living room area.
The Eagles Nest
Located above the garage attached to the main lodge building this newly remodeled unit is perfect for couples or four singles and has a stunning view of the Kenai River. Access is up a flight of 13 stairs on the exterior of the lodge building so please note that when booking this unit. There is a single bathroom and two bedrooms with four single beds. Upon request and based on availability the bedrooms can be converted into king beds.
The Hideaway
This unit is located in the daylight basement of the main lodge and has its own entrance through the garage. There are four single beds (two bedrooms) and one bathroom.
Getting Here
Your trip to our lodge will either start by renting a car when you land in Anchorage to make the Beautiful Scenic drive of 150 miles, approximately 3 hours. Or you could choose to catch a commuter flight from Anchorage to the Kenai airport through one of our local air flight services. This flight is about 20 minutes. You will want to make sure you have a rental car secured before landing in Kenai as this is a small town and can be limited on inventory at certain times of the year.
Arrival
Once you arrive at the Lodge, check-in is after 4 p.m., it's time to unpack and relax. You will be greeted in your unit with a complete Itinerary of all of your scheduled adventures; this is also provided in advance as well before your arrival date. You may check in first before going to one of our local grocery stores for your supplies or stop before you arrive so you can relax right away on our riverside deck. Either way, we are only 10 minutes away from 4 to 5 grocery and liquor stores.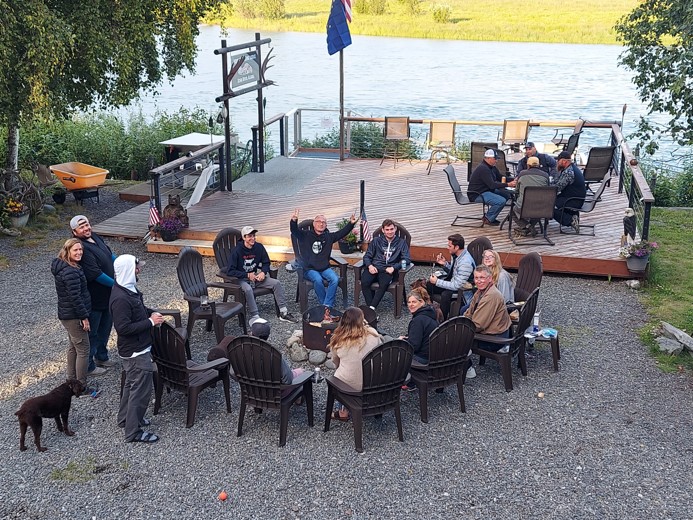 Riverside Deck
You will definitely want to spend some time by the river; all guests have full use of the riverside deck and the covered BBQ pavilion. This area is the most popular spot on the property. The riverside deck is the place where all your Kenai River fishing starts. We have a floating dock in the water where we keep our 21-foot Willie powerboats. The water can be very swift on the dock, so we ask clients not to venture down without one of our guides for their safety.
Fish Processing
Once your day's adventure is winding down, please join us back on the deck where a warm crackling fire is going. For those that have fish that need processing, we will take care of all those needs. It will be your time to watch how your fish is handled or grab a beverage and sit on the Riverside deck. Your host Kim ensures a fire every night for our guests to enjoy. The fire ring is a great spot to share some stories and meet other guests at the Lodge.
Grilling
Typically this is the time of day guests start to fire up the BBQ grill, with plenty of room for all guests to cook up their favorite foods or catch. Guests can help themselves to any available seasonings, as well as the utensils and paper plates, all provided at the grilling area. If you're not grilling or cooking in your cabin, you might take a trip into town and eat at one of our local restaurants or have them deliver something directly to the lodge.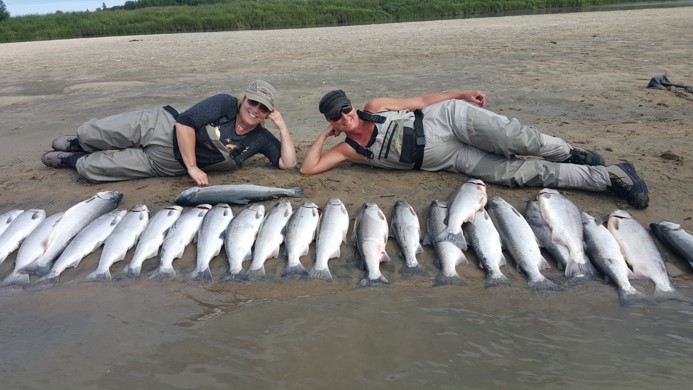 Wildlife Viewing
Wildlife viewing from the deck has included Bald Eagles almost hourly. Harbor Seals and an occasional Brown Bear across the river are always enjoyable treats. It is also common to see Moose and Caribou across the river as well with sightings right between the cabins, so make sure to keep your head up when walking around the lodge.
Kenai River
The lodge is located at river mile 10 of the Kenai River, which means we are only 10 miles from the Cook Inlet water body where the river ends. This location places us in the heart of the tidal influence, where we can see up to a 12-foot change in water depth on certain high tides. With this amount of water in early spring, it is not uncommon to see a pod of curious Beluga whales chasing salmon, their favorite meal right in front of the Lodge.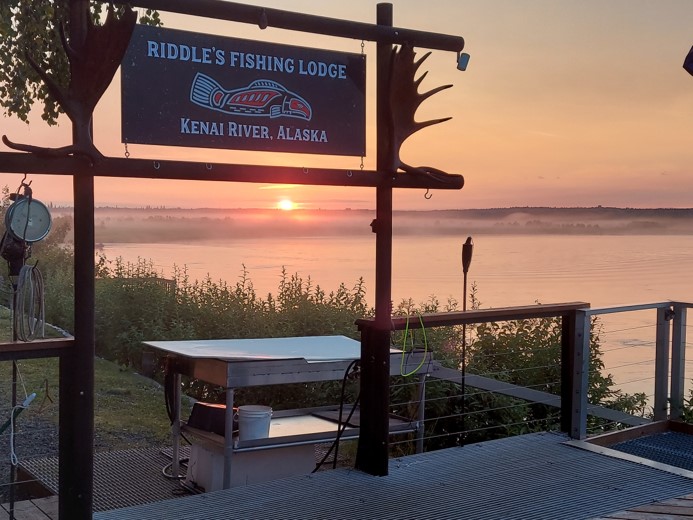 Fishing Gear
Our lodge also has loaner fishing gear available for those that might want to chase the midnight sun and continue fishing at one of the local fishing spots nearby. We have fishing poles, hip Boots, Nets, Coolers for fish, and for your beverages and snacks, along with some of the needed terminal tackle to fish with, ask one of the Guides for help.
"We can absolutely recommend Riddle's Fishing Lodge to anyone looking for an Alaskan fishing adventure. We have enjoyed several seasons at Riddle's and always had huge success and limits most every day out. We have even extended our trips because they were just so much fun. Tommy Belknap, who introduced us to Riddle's when we met him fishing in Idaho, is not only a fantastic guide but has also become a great friend, as have Ross and Kim. Tommy knows where the fish will be like no one we have ever seen. I cannot exaggerate just how wonderful the environment at this lodge is. You are made to feel welcome as if they have known you for years. The accommodations are very comfortable and they go out of their way to make you feel at home. They will also help set you up with other side trips in the bay for Halibut or upriver for trout. If you have ever dreamed about an Alaska salmon trip, this is the place you want to be. We will be heading back to Riddle's for years to come."

Dave & Stefanie Whitman – Bakersfield, CA