Riddle's Fishing Lodge is a pioneer in bank restoration on the Kenai River. In addition to providing top-notch fishing and adventure packages, owners Ross and Kim care deeply about the health and longevity of the fish habitat they've shared with visitors worldwide for almost 40 years.
In its 38 years of operation, Riddle's Fishing Lodge has never had a client who didn't consider themselves an honorary family member by the end of their trip. And that's how Ross and Kim prefer it.
Kim's father and stepmother, Steve and Donna Riddle started the lodge in 1985. Since taking over in 2003, Ross and Kim have worked tirelessly to provide customers with impeccable service, world-class lodging, and epic adventures your friends back home won't believe. And now their daughter, Brittany, is working with them to take over operations as the third generation of her family to do so.
Ross and Kim live on-site at our beautiful Kenai River Lodge, and guests benefit daily from their hands-on attention to detail. Personal service is the prime objective with lifelong Alaskans, Ross, and Kim Harding. With over 20 years in business and three generations of family running this Kenai River lodge, we hope you will use our experience and expertise in planning your ultimate Alaska vacation.
We always say, if you are going to fish, why not fish from the 50-yard line? Our lodge is centrally located at mile ten on the lower Kenai River, within 10 minutes of the Historic town of Kenai and fifteen minutes from Soldotna. You will find plenty of restaurants, grocery stores, and gift shops in both cities.
If putting a line in the water, taking in once-in-a-lifetime views, and spending your days with knowledgeable and professional guides before relaxing with a cold one around a fire sounds like a perfect vacation to you, then Riddle's Fishing Lodge is the place for you and yours.
OUR TEAM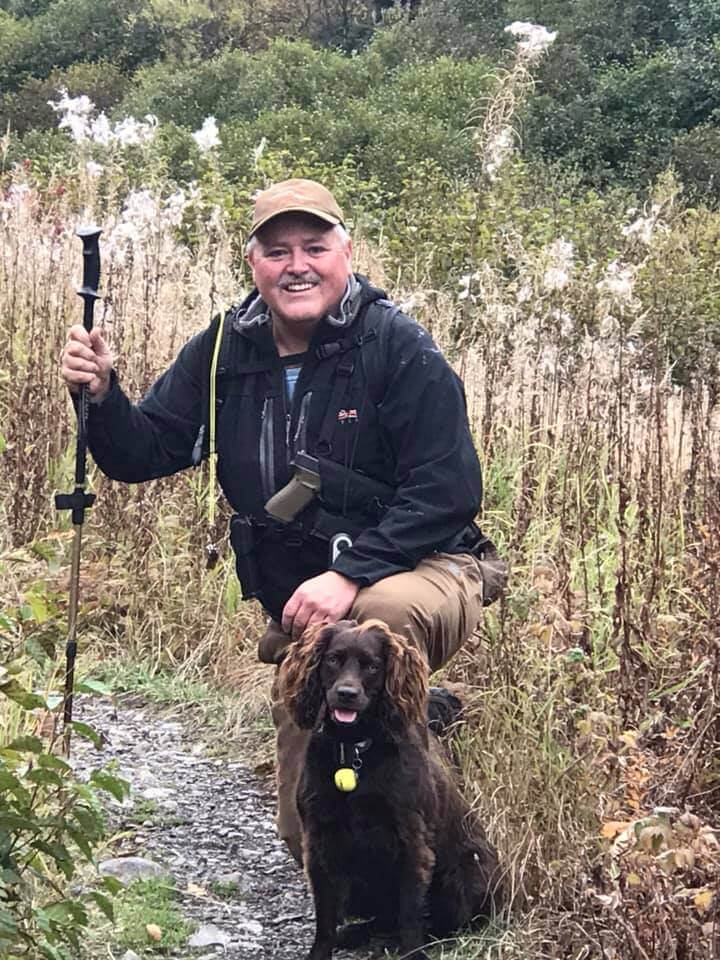 Ross Harding – Owner/Guide and CQCO (Chief Quality Control Officer)
Ross grew up fishing all over the Last Frontier and definitely has fishing stories running in his veins where his blood should be. And while he loves the streams, rivers, and oceans across the state for all they have to offer, he holds a special place in his heart for the Kenai River and always knew he wanted to guide there.
When his job brought him to the Kenai Peninsula, he decided to take the plunge and began guiding for Riddles before taking over ownership in 2003. As Chief Quality Control Officer, Ross is responsible for making sure the property is in pristine working order for all guests, the boats are gassed up, the beer fridge is cold, and the fire is stoked each evening as you come off the river to relax. Ross is there daily to ensure each guest is having a once-in-a-lifetime experience, even if it's their 15th trip to the lodge.
---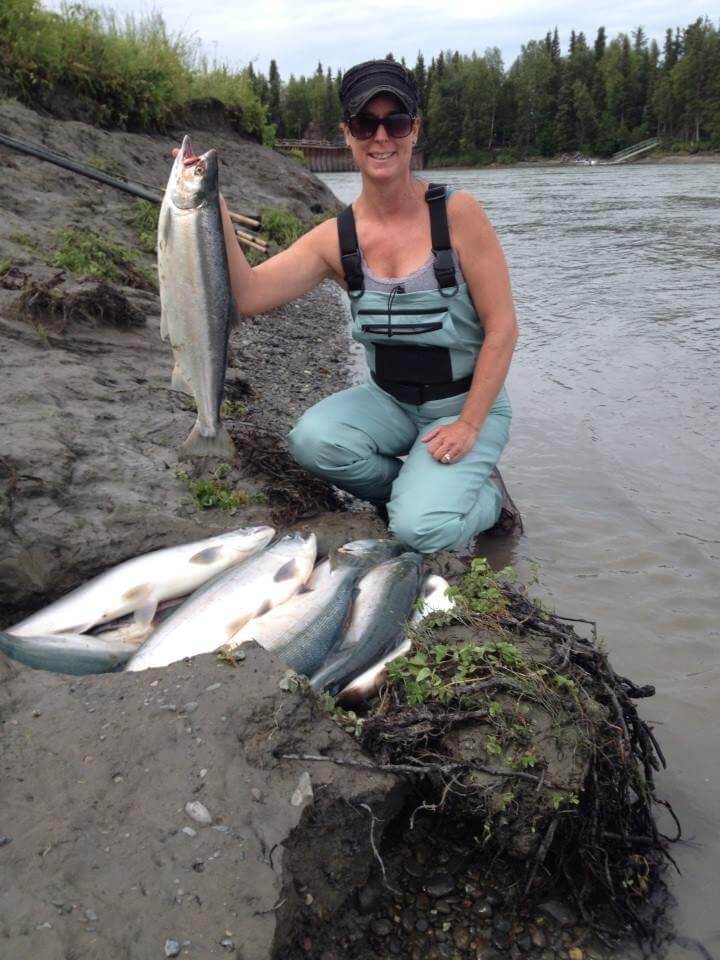 Kim Harding – Owner and CLO (Chief Logistics Officer)
Kim came to Alaska to visit her father in 1986 for a summer, and she still hasn't left. We like to joke that it's due to the phenomenal weather and the great fishing, but it was probably falling in love with a young handsome fishing guide that did the trick.
Two grown kids, a fishing lodge, and a lifetime's worth of memories later, Kim enjoys her summers spent on the Kenai, making sure that guests have the vacation of a lifetime.
Kim is the jack of all trades at the lodge. If she isn't managing the moving logistics of 25-plus travelers, you might find her watering the flowers, checking in on fish processing, packing boxes to ship fish, or helping guests figure out where to hike and adventure on their day off from fishing.
---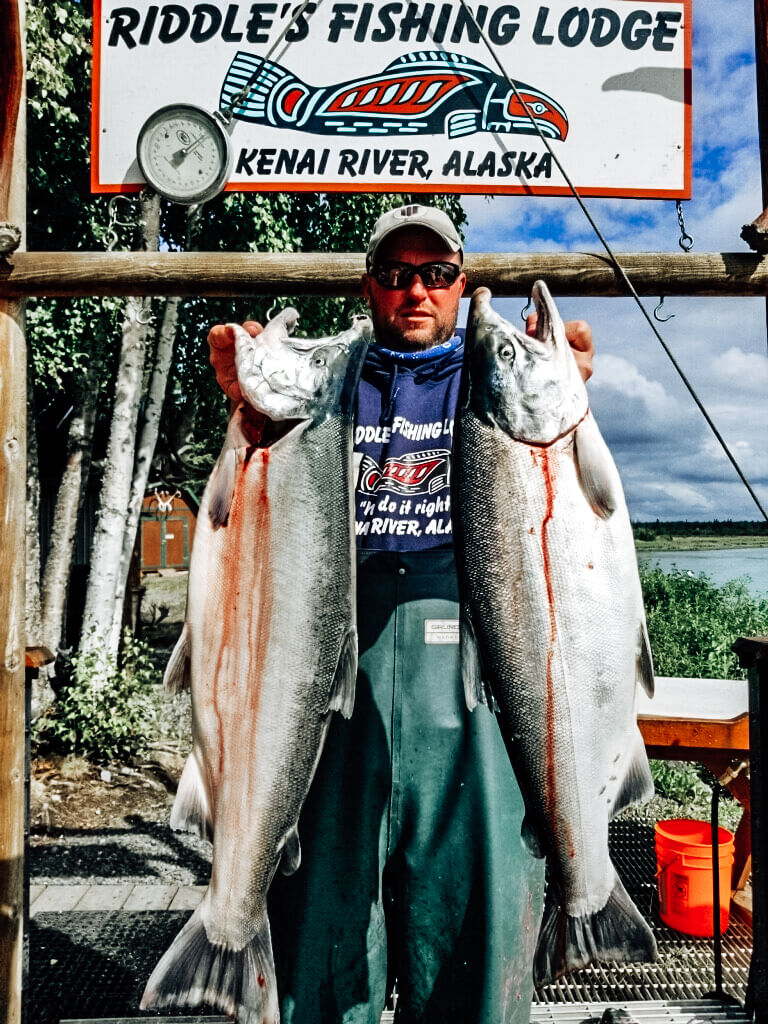 Tommy Belknap – Guide and CFFO (Chief Fishing & Fun Officer)
Tommy grew up in a fishing family. Spending his childhood in remote Western Alaska with a father in the public health service, he has been fishing salmon since before he can remember. Tommy guides year-round in Washington, Idaho, and in Alaska for Riddle's Fishing Lodge.
Tommy began his guiding career rowing on the Kasilof River at the age of 18. Although he spends most of his time at home in a power boat, he loves rowing the Kasilof for Kings and Silver Salmon.
When not guiding anglers to some of the world's best salmon and steelhead fishing, Tommy enjoys spending time with his wife, Christina and sons, Jack and Beau.
---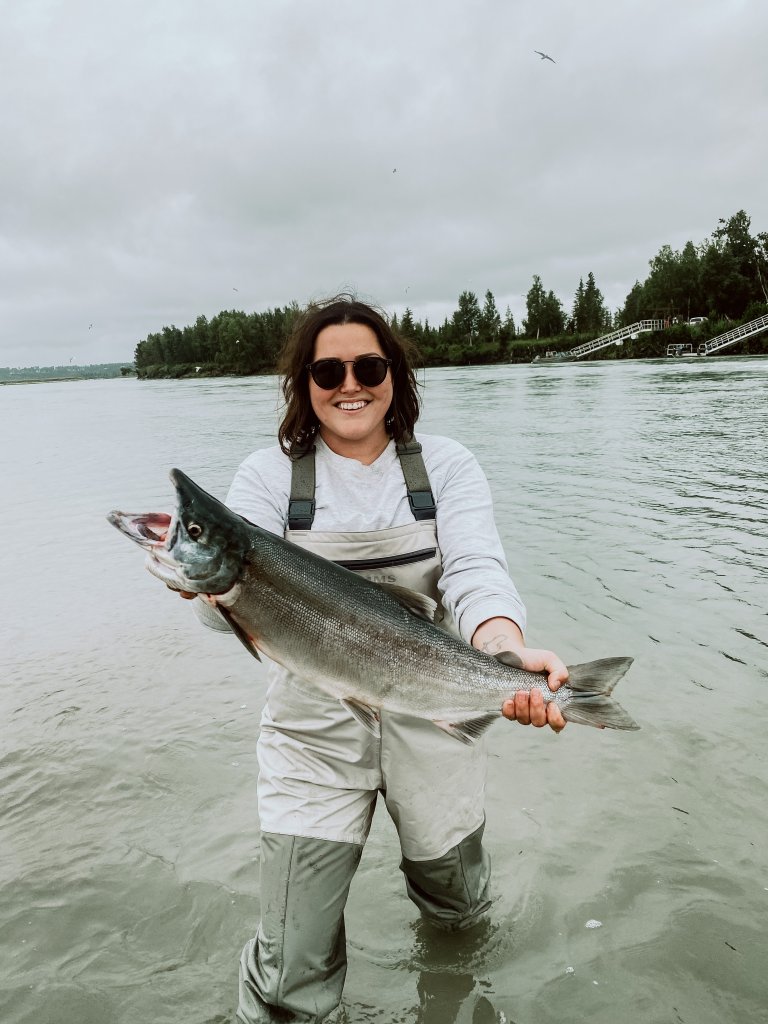 Brittany Harding – CBO – (Chief Booking Officer)
No stranger to this business, Britt grew up, as many of you know, processing fish beginning when she was just 11 years old, and the fish were bigger than her! Kim and Ross bought the lodge from Steve and Donna Riddle (Kim's father and step-mother) in 2003 and Britt began working it the same year they did.
As the master fish filleter, Britt spent her high school and college years working the lodge before moving on to a career in Public Relations. During her post-college time she worked representing clients such as the State of Alaska Tourism Office, handling media relations and events in New York City and then back here in Alaska beginning in 2015. She then started her own business, planning events for visitors from all over the world. So throughout the years Alaska tourism has been at the heart of all she does. These skills dovetail to make Britt the perfect person to take over lodge operations for us and continue not only a family tradition but a level of excellence our guests have come to expect.
---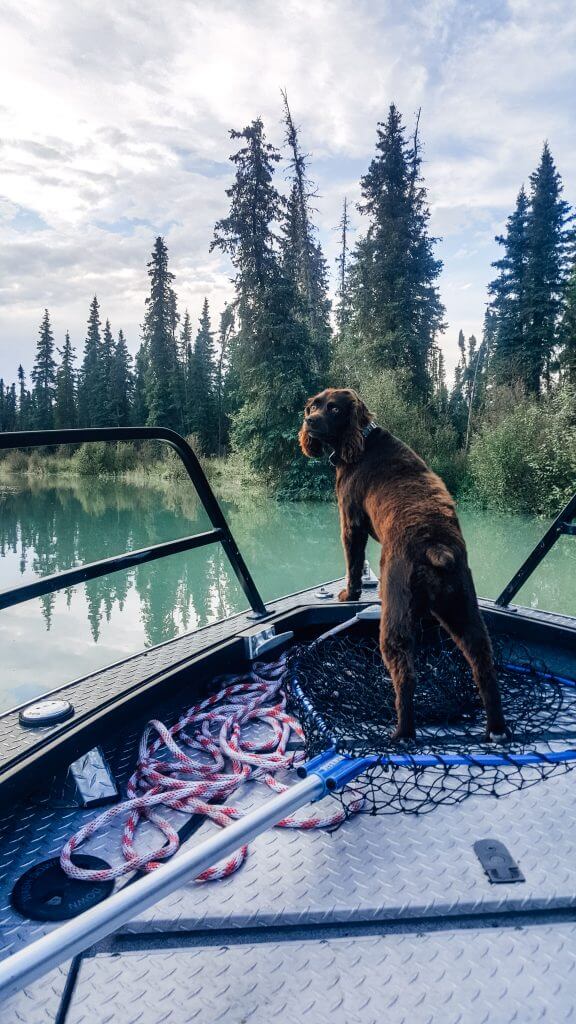 Bailey – Lodge Dog and CFO (Chief fetching officer)
Bailey, a boykin spaniel, came to Ross and Kim during the summer of 2017 from Vancleave, Mississippi, and has been keeping an eye on the day-to-day operations at Riddles ever since. Though she has southern roots, she is a true Alaskan at heart. She loves a good cuddle session in the sunshine by the barbecue area (mostly because she knows someone is bound to sneak her a snack) and enjoys following her mom around as Kim takes care of the daily operations at the lodge. If you want to get on her good side (which you do), toss the ball for her while relaxing by the fire one evening. She will reward you with unconditional love.