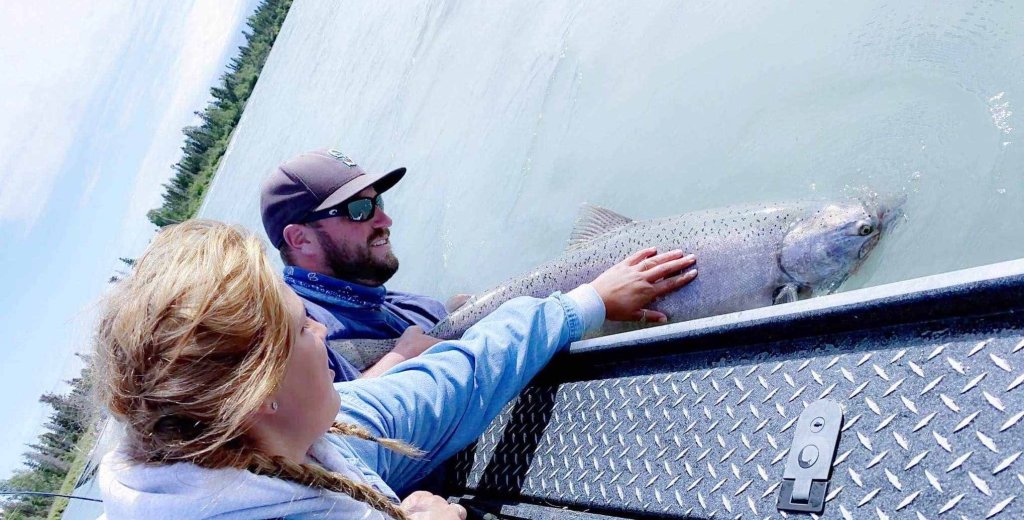 We have been talking recently about how lucky we are to have such a high volume of return clients to our Kenai River lodge. This means many of our guests have been with us since the "before times" regarding the king salmon population on the Kenai River. It means they understand first-hand why protecting this fishery is so important.
However, with the new wave of Emergency Orders from Fish and Game, which can be found here, we thought it would make sense to go over them with you for any of our newer clientele and give you a little history of our fishing program here at Riddle's Fishing Lodge.
Kings on the Kenai River
The Kenai River has for decades been synonymous with King Salmon. It's what comes up first when you google the Kenai River. It's what you've been told stories about for years. But that fishery needs our help now if we want it to come back more robust in the future.
We've always been enormous proponents of stricter regulations regarding this fishery. We know that may seem counterintuitive. But we want the fishing here to be sustainable for years to come, not just accessible to clients today. We know to manage and protect this fishery is multi-faceted. It's why we continue to invest in bank restoration and habitat protection in front of our lodge and why we continue to educate our guests year after year on sustainable and ethical fishing practices.
It's a resource shared by all, and while we know politics and special interests can obscure that sometimes, we, for years, have turned our fishing focus away from King Salmon fishing and encourage catch and release whenever possible when it has been open for us to do so.
We shared a great video produced on behalf of the Kenai River Sportfishing Association the other day that gives a good overview of the issues at hand. You can find that video, Kings of the Kenai, here.
As many of you know, our fishing program at Riddle's focuses primarily on sockeye fishing in July and Silver Salmon fishing in August and September. Read below to see how these emergency orders affect our different fisheries and how they might impact your fishing experience.
What do these emergency orders mean for the 2023 fishing season?
The good news is that to get ahead of these emergency orders and help do our part to maintain the viability of the king salmon fishery; we have not been focusing on King Salmon fishing on the Kenai River for some time. Anyone who has fished with us in the past ten or so years has seen our focus shift more and more toward the other vibrant salmon species that the Kenai is home to.
We do currently send folks fishing for freshwater King Salmon on the Kasilof River during June and early July. The emergency orders here affect that fishery, but do not shut it down. The Kasilof River will still be open to retaining hatchery king salmon in June and July. Hatchery fish are notable because of the adipose fin-clip scar. The adipose fin is a small fleshy fin on the back of the fish just ahead of the tail.
We look forward to continuing our program of fishing all of you on the Kenai for some of our more abundant species that have been successfully managed over the years and appreciate all of your patience and understanding regarding these emergency orders. As any new information becomes available, we will post it here!
As always, our goal is to responsibly fish the Kenai River and surrounding fisheries so that we can have adequate returns of King Salmon and other species to support a vibrant and healthy river for years to come.